Xcorps Action Sports Music TV WHEELMAN
*Watch the FULL XCORPS TV show episode here for FREE!

Xcorps Action Sports Music TV 13. WHEELMAN – FULL SHOW
LINK:
See the Action Hear The Music Join The Xcorps!
Stay Tuned!
Stu Edmondson
executive producer
Xcorps TV
©2015TheXcorps
XcorpsTV.com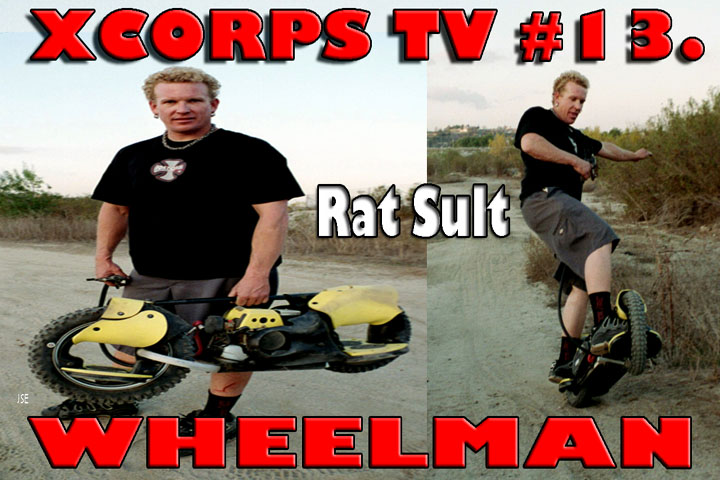 Action Sports Music TV 13. WHEELMAN – Full Show Free – Bending the bounds of civilized sanity this episode of the Xcorps rolls at the viewer at double blink speed with the eXpected non-stop action and music and a look at new X products like the rim drive foot motorcycle from Australia called the Wheelman and a radical skate board going by the name of Tierney Rides.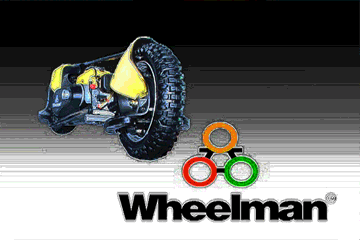 This Xcorps Action Sports TV episode features some wild Action Sports products with a hybrid motorized foot motorcycle unit and a very unique Snowboard feeling Skateboard called Tierney Rides!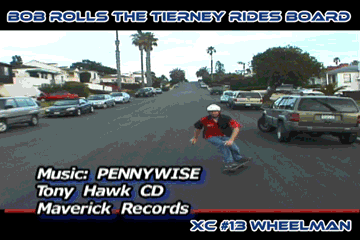 Testing out and investigating these cool new inventions are XC hosts Eric the 'Xguru' Ducharme and Bob 'I'll Try That' Woodard.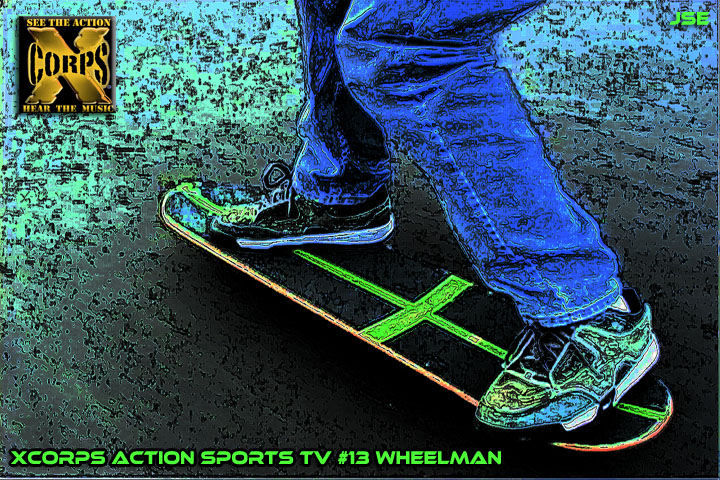 Xcorps TV main host and reporter Jason Lazo opens the show up from Southern California's Extreme Sports Zone – the huge Hollywood Sports Park in Bellflower outside of LA.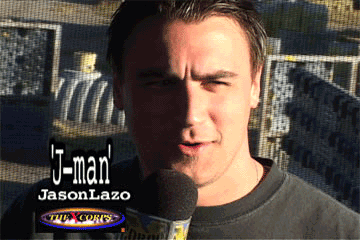 Now if your into any number of traditional as well as action sports the Hollywood Sports Park is the place to hang out! It's a sprawling Disneyland of an area but with a Hollywood theme using actual  props from the film and TV industry industry.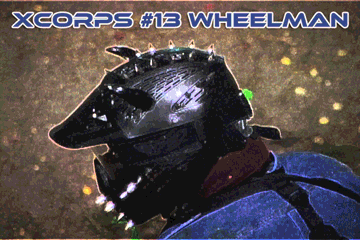 Xcorps felt right at home at this sports park which rolls large with vast paintball and skate zones along with BMX tracks, arcades and other sports fuN to hang areas.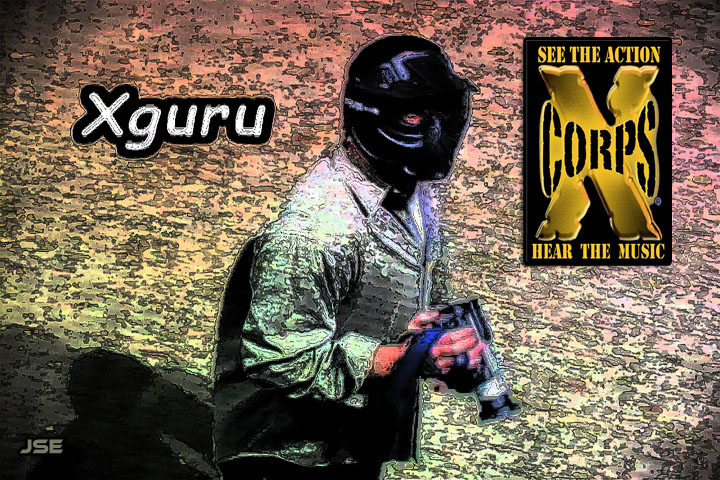 To get some of the Action Shots in this XC show Eric The X Guru takes an X CAM into some gnarly paint ball pens under the cover of darkness!
Eric video records his own painful demise with multiple paint hits that left purple welts at the hands of local youth who knew the futuristic Urban War zone setting!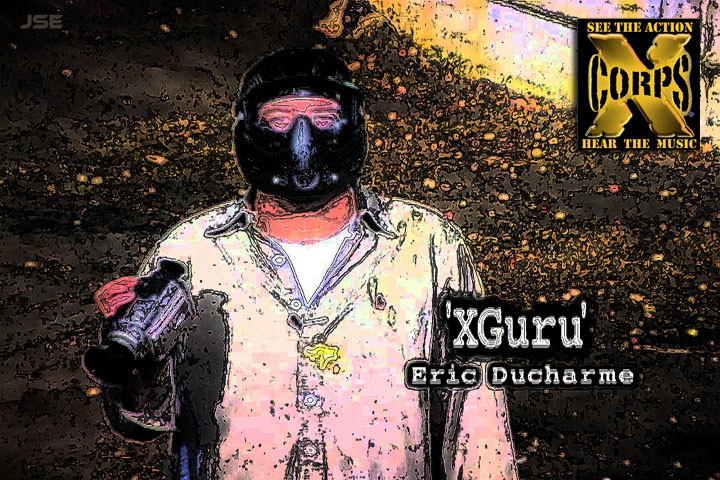 This paintball park is also made up from Hollywood film set props such as BattleStar Galactica space ship parts giving the area a unique Sci-Fi look and feel!
Music backing up the Action here from Rive Video Promotions with the band Benumb music video edited along with the marker carnage!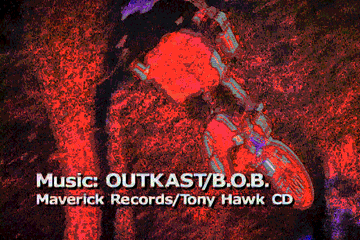 After that this XC show takes a look at another part of the Hollywood Sports Park with Eric checking out the BMX bike track with local rider Danny Downey who knows how to hit the track on his Haro – Inverted!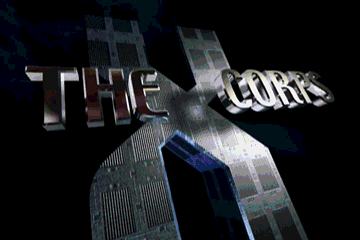 Additional tight tunes by artist Outkast in the piece sweetens the BMX moves!
After the break Jason Lazo introduces a new music video from Maverick Records featuring the St. Louis band Story of the Year who do manage to kick the show up yet another notch!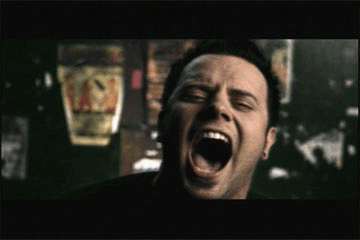 In the next segment Jason returns to open the title story on this show with the new motorized foot motorcycle called the Wheelman a totally new form of motorized transport that is very exciting and FIELD TESTED here on this XC episode!
Steering is done with a combination of body and foot movement!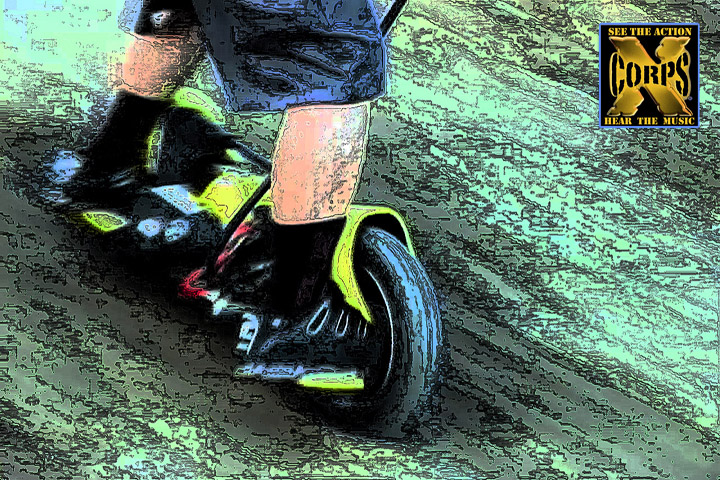 The Wheelman is RIM DRIVEN and since there are no hubs the riders feet each stand on very low center of gravity decks where the axel usually goes!  We did say different concept here but it works well!
Steering initiated by turning your feet in the direction you want to go!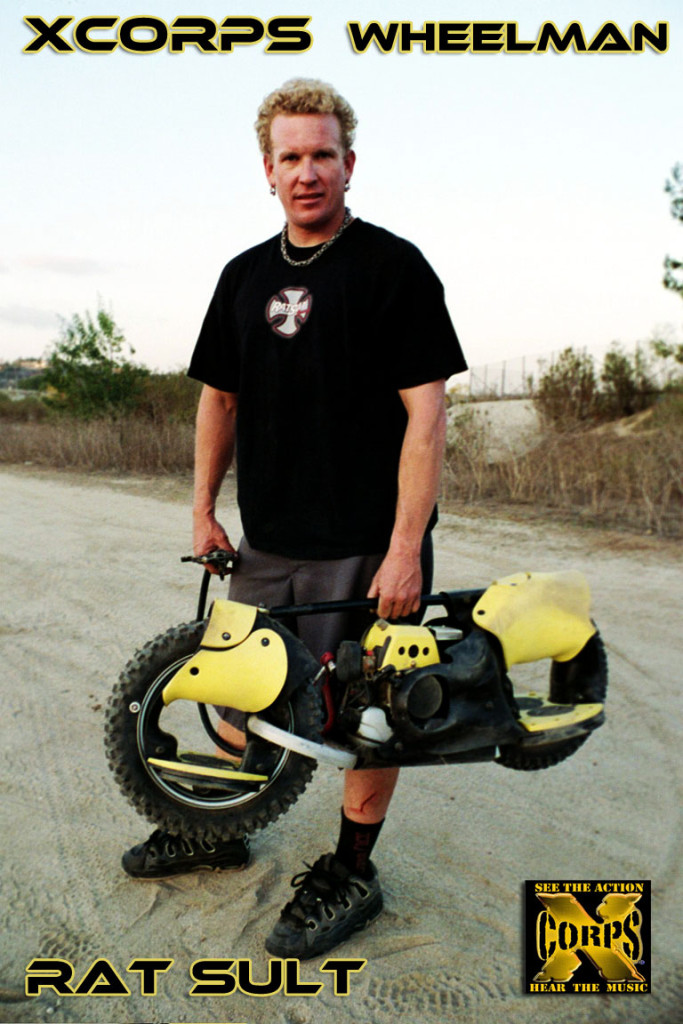 Introduced on a previous Xcorps episode by our XGURU the Wheelman or Bushpig as it is originally know in Australia via creator Grant Taylor who was interviewed by Eric during a visit to from Queensland to California to promote his product.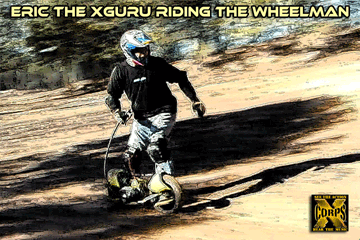 The Wheelsman's free ride and thrills are provided by a 43 cc two stroke gas motor with the average rider being able to roll a top speed of between 16 – 20mph even on a low tide beach! Currently there are many knockoffs of the original Bushpig being distributed under the Wheelman name.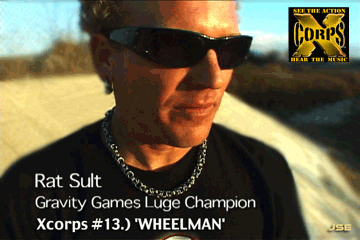 The show delivers with another crazy segment of Action and Music with Eric the Xguru along another Xcorps member –  Gravity Games and X Games street luge champ Rat Sult off road test riding the new Wheelman as well! This is one of the early appearances on the XC show of team XC member Rat Sult who is shown test riding the Wheelman!  Music here by Alien Ant Farm.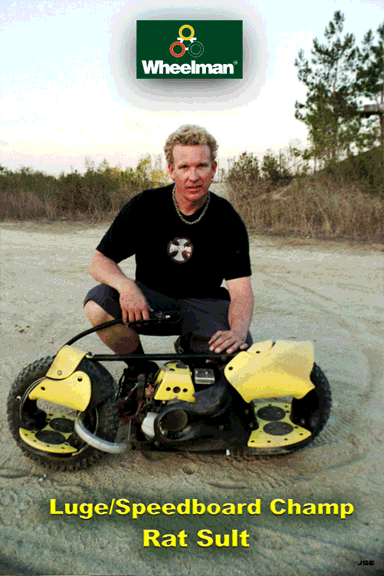 After that its back to Bob Woodard in San Diego California doing a product testing on a new custom way to skate – using a 2 wheeled swivel truck board called Tierney Rides.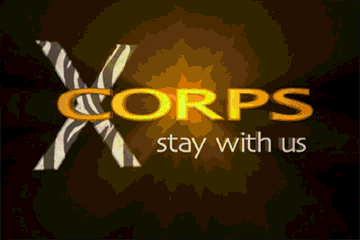 Xcorps is happy to say we have tested this board and it was a BLAST to ride! The pivoting heavy duty sprung gimbaled trucks actually performed much like a Snowboard providing FAST FUN DEEP carving turns that felt like snow on fresh PAVEMENT…Tiernry Rides Rocks baby!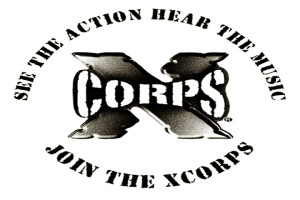 Check out the Action here with Bob rolling this board using some snowboard moves on the Point Loma Ocean Beach hills. Cool shots and  big carve skate moves from local rider Marcus on the multipurpose Carve Board!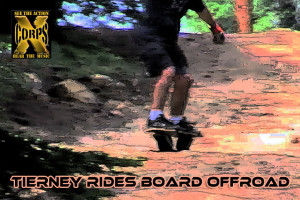 The Tierney Rides also called a T-BOARD is a heavy duty board that with optional FAT TIRES can go off road and even stock can handle some major speed with not much wobble as seen in this Xcorps 'Don't Try This At Home' segment!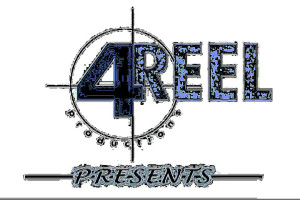 Insane Team Tierney Rides speed skate video from Dana Mackie at 4 Reel Productions shot on the roads around Lake Tahoe Califronia. No doubt..40 mph on ANY skateboard IS very fast!
Once you get used to being so high up on a skateboard you learn you can carve as deep as 60 degrees which is much deeper than a regular skateboard giving the T-Board feel like a snowboard feel and making it a very unique ride!
Music in this segment from the bands Pennywise, Paul Oakenfold and Ice Cube add their say to this video report.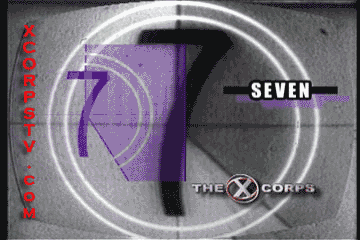 After that the show swings back to the Hollywood Sports Park with Eric The X Guru at the skate ramps this time talking to local Bellflower Ca inline skater 'Scooby' who mentions how long it him took to learn his back flip 180...NOT an easy skate move folks!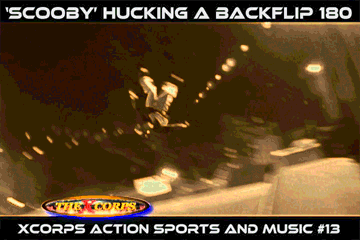 Then Eric is back in a Sci Fi Paintball Hell rolling the XCAM on the Action while the Rolling Stones and Dr. Dre do a 'Miss You' remix.
Check out the paintball carnage with The XGURU showing some nasty purple marker welts. We did make an announcement beforehand  to all players NOT to shoot the XC cameraman!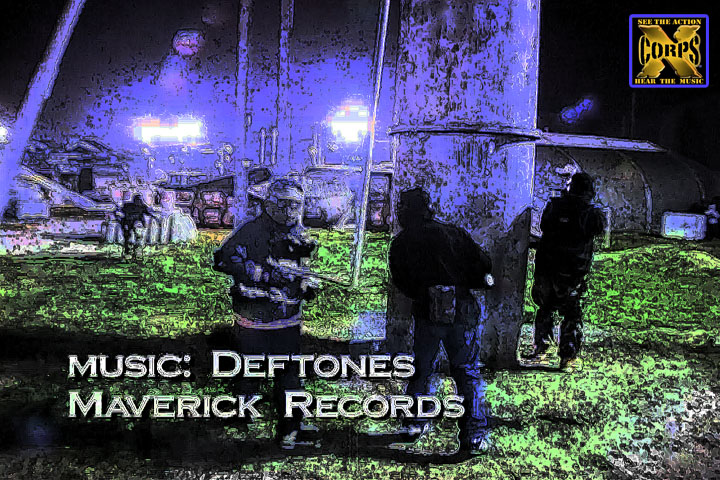 Jason Lazo closes this shows insanity with a promise of more to come on the next show followed by one final X move by pro stuntman and BMX rider Troy Bellinghausen performing one of his wall slam off his bike moves!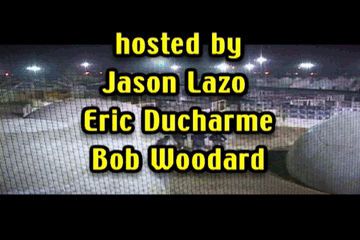 Tune in next week as we roll into season two!
Hosted by Jason Lazo, Eric Ducharme and Bob Woodard and Rat Sult.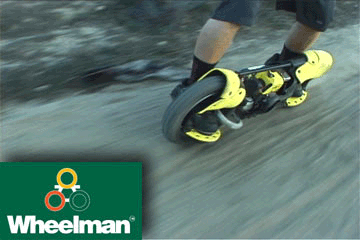 Special thanks to: Fred Croshal at Maverick Records, Rive Video Promotions, Hollywood Sports Park, Dana Mackie – 4 Reel Productions, Relapse Records, Media 101, Danny Downey, Troy Bellingausen, Tierney Rides Skateboards, Grant Taylor Bushpig Australia.
Peace Out. Trt-22:30 3/2004 Close Caps
See The Action Hear The Music Join The Xcorps!
A J.S.Edmondson Film ©2015 The Xcorps
http://actionsportsmusictv.com/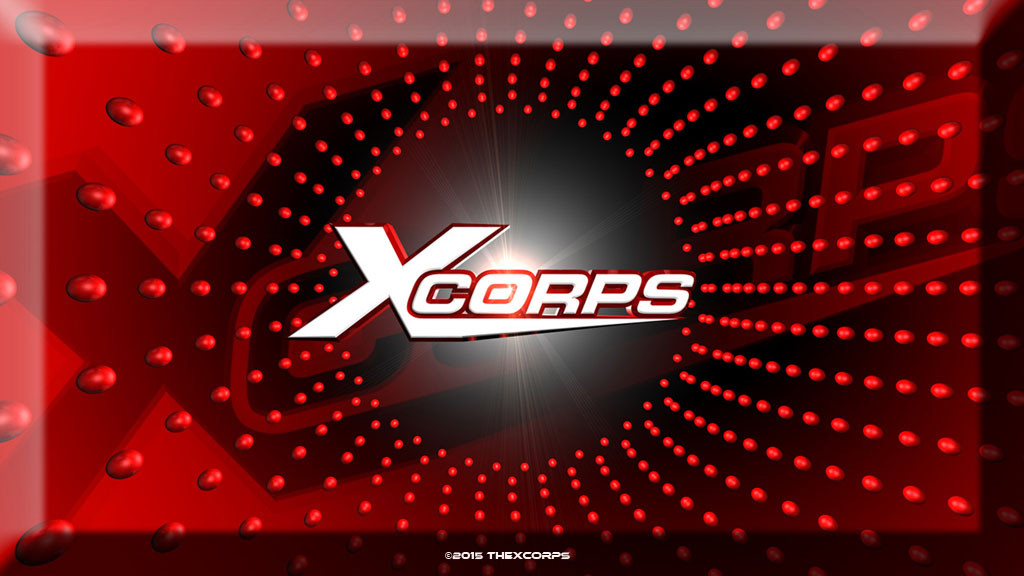 http://www.xcorpstv.com/
http://actionsportsmusictv.com/
*Watch the FULL XCORPS TV show episode here for FREE!

Xcorps Action Sports Music TV 13. WHEELMAN – FULL SHOW
LINK:
See the Action Hear The Music Join The Xcorps!
Stay Tuned!
Stu Edmondson
executive producer
Xcorps TV
©2015 TheXcorps
XcorpsTV.com


*Xcorps TV Production Tip #13. – Please DO IT!
Tip Coming Soon!
JSE/XCTV
*Xcorps TV Production Tip #13. –  Please DO IT!
WANT YOUR OWN WEBSITE or Happening Blog? – Sign Up Here!
NAMECHEAP Web Hosting and URL's