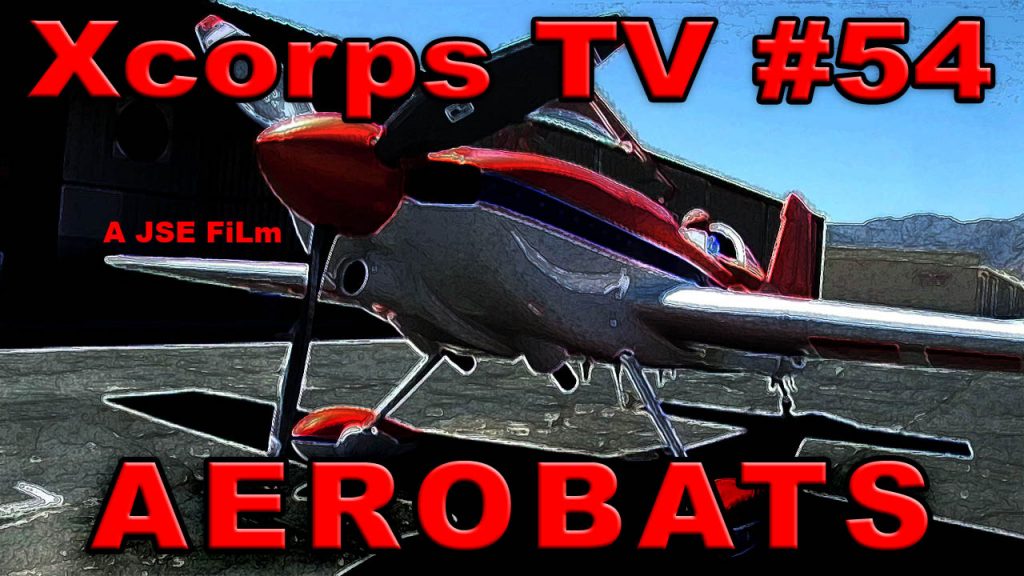 Xcorps Action Sports Music TV 54. AEROBATS – Xcorps Action Sports and Music TV present two very different adrenalized worlds of Action Sports by traveling to the So Cal Borrego Desert with extreme aerobatic aircraft pulling hard G's and XCTV host Mr. eXtreme Rat Sult taking his racing street LUGE 10 MILES DOWNHILL into Borrego Springs!


SHOW VIDEO – CLICK BELOW – Action Sports Music TV #54. AEROBATS – FULL SHOW


*DOWN LOAD MUSIC from this XCTV SHOW #54. AEROBATS
This Xcorps TV show episode opens up in the mountains above Borrego Springs California with show host Mr. X himself Rat Sult on his way to report on a wild aero sports stunt plane event called the Borrego Hammerhead Roundup where some of the best acrobatic pilots out there will be competing in a place in the sky called "The Box"!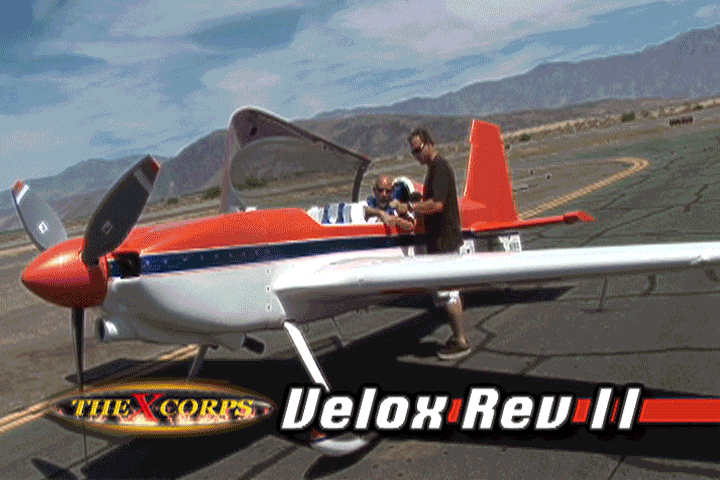 The area above the Borrego Desert is a radly beautiful nature zone 3000 feet up in the dry San Ysidro mountains along a remote highway called Montezuma which drops along a 10 miles stretch into the Borrego desert below.

Xcorps Action Sports Music TV AEROBATS – SPECIAL Presentation – Montezuma Grade LUGE – See never before released Action film footage of Rat Sult skate luging10 miles down the notoriously steep and curvy Montezuma Grade S22 highway into Borrego Springs California!
Cool and super Hip music video here from RIVE promotions with musical artist Paul Hill being very smooth and fully content with the tune " Ur Thoughts" featuring FunKy as all HeCk George Clinton!


SHOW VIDEO – CLICK BELOW – Action Sports Music TV SPECIAL Presentation Montezuma Grade LUGE eXtra VIDEO Footage!

*DOWN LOAD MUSIC from this XCTV SHOW Special Paul Hill feat. George Clinton
The road signs here warn to check your brakes and watch your speed! Just the place for Xcorps!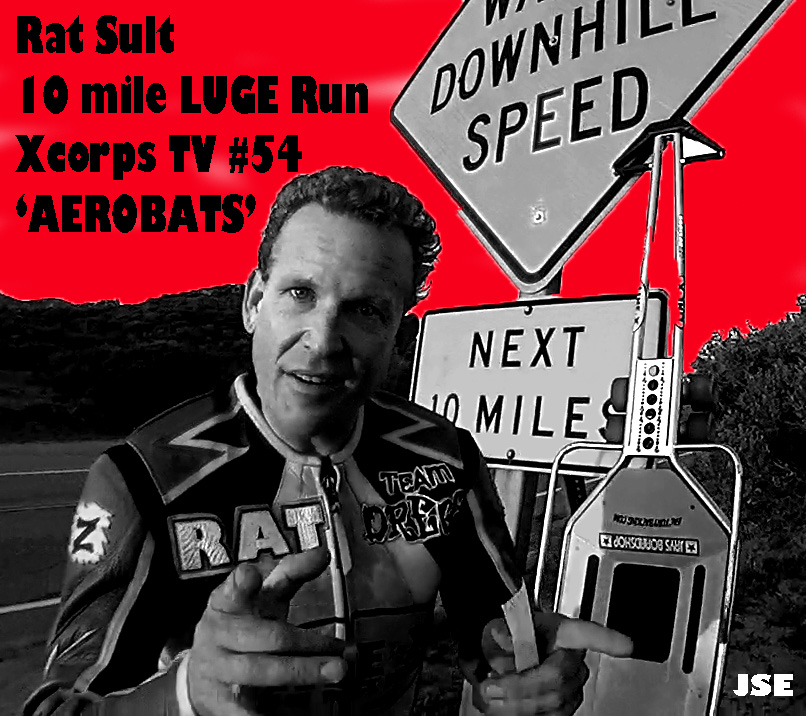 XCTV rolls video on show host Rat Sult as he readies his custom all aluminum racing street luge for an unauthorized speed run, (Rat's longest career luge run) down a wild hairpin turning 10 mile long stretch of S22 highway called the Montezuma Drop! Crazy!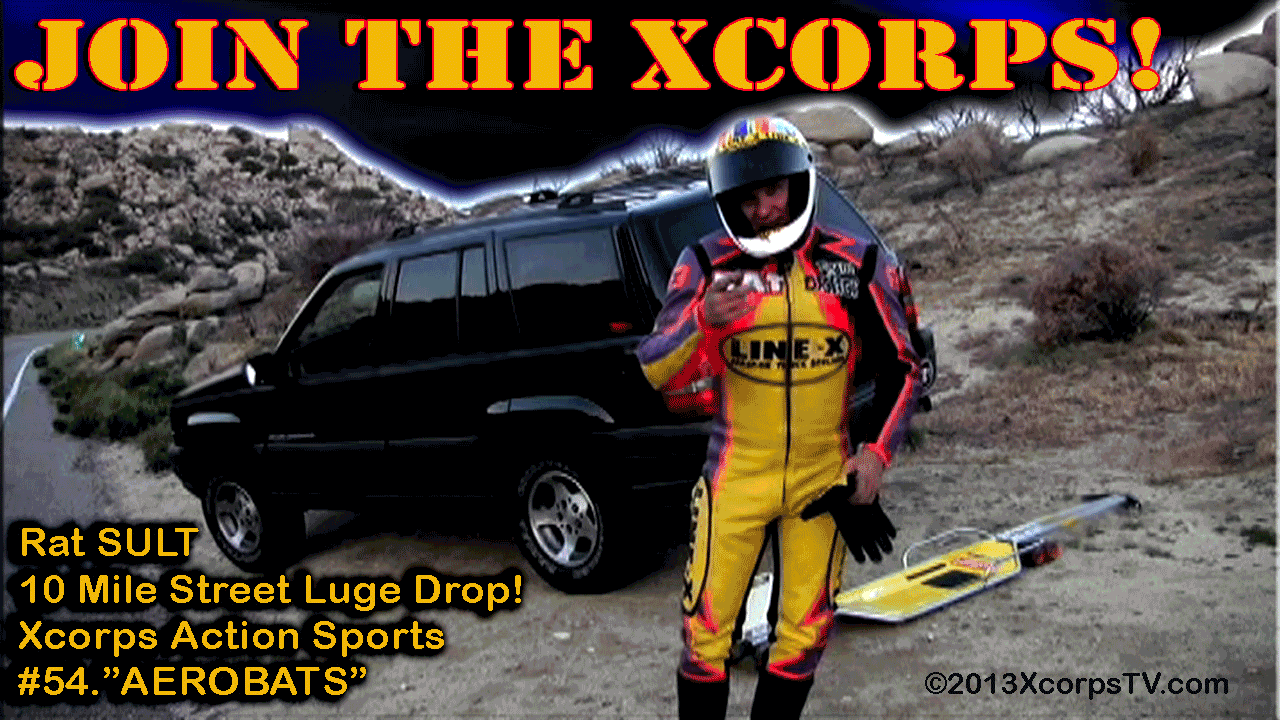 Rat's a pro…DON'T TRY this at home kids because a street luge has NO BRAKES!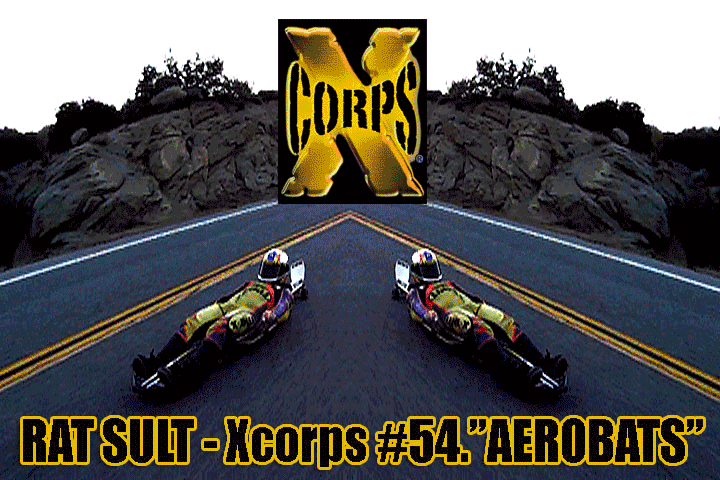 For this grueling speed ride Rat wore his original LINE X Yellow leathers and to slow down on the corners he burned away a new pair of Vans skate shoes using them for brakes!
Rat's yellow LINE-X leathers are the ones modeled for the TECH DECK Rat Sult action figure collector series available in stores!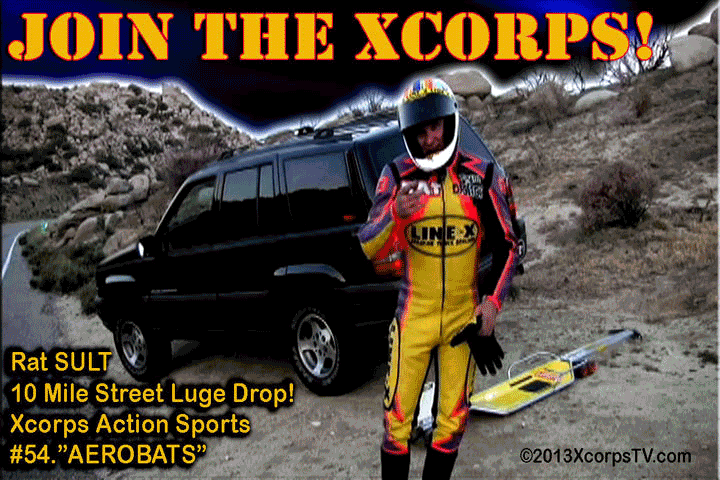 As with many of the Xcorps TV show episodes our cameras were the only ones rolling on the competition at this insanely professional niche aerobatic action sports event held at Borrego Springs Valley Airport.
The desert town of Borrego Springs California because of its remote location, (high performance planes like cars get noisy but out here there are few to complain). Borrego hosts some of the worlds best AEROBATIC STUNT PLANE events with pilots competing in what's called a SKY BOX above the desert airport runway!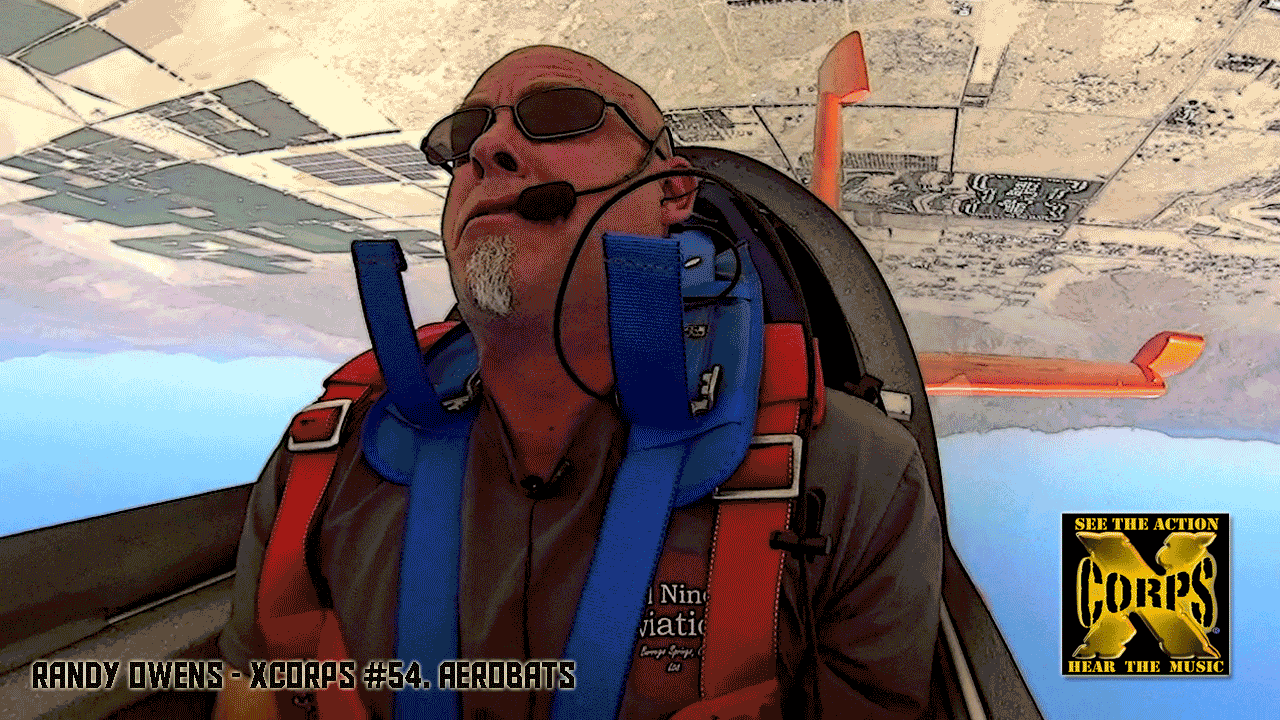 For video footage check out these cool POV angles where NO GO PRO has gone before! Xcorps used the new Sony Action Cam series of POV cameras to shoot these action shots!
The aerobatic action here is edited with a new music video from RIVE featuring the high powered band Thousand Foot Krutch doing their song "War Of Change".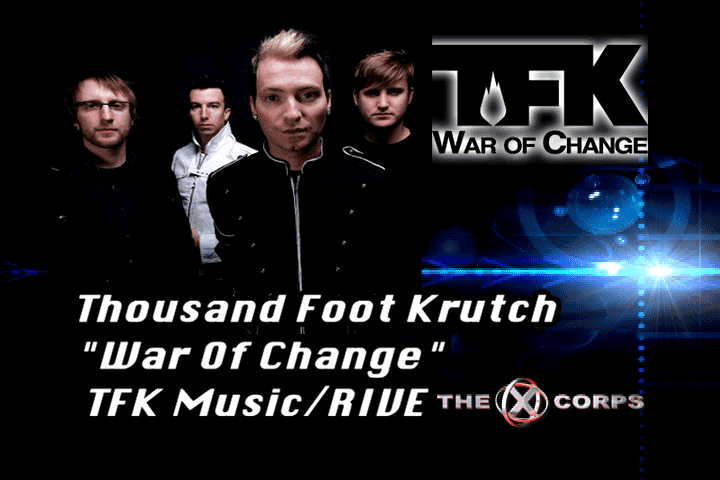 Rat rolls the event Xcorps style and talks to aerobatic pilot Randy Owens about how it is steering a sleek and fast VeloX VX Rev 2 high performance stunt plane! The engine is the only metal part of the plane! See Randy working the Borrego Box and pulling some face bending heavy Gs!

Xcorps TV host Rat Sult interviews Randy and other ultra X aerobatic pilots including the winner of the sky event Tim Just.
Rat talks with a couple gal flyers and then on a dare and cheap thrills Rat puts on a parachute and straps into one of the anti gravity high performance planes – the total carbon fiber Velox N11VX!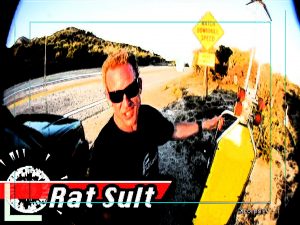 Lucky for Rat he has a very skilled pilot at the controls for the ride of his life! See how Rat holds up to a few NEGATIVE G's!
Things keeps rolling with more action and an interview with with Hammerhead Roundup event winner Tim Just who talks about his special plane an Extra 300s and some of his favorite aerobatic stomach lifting moves!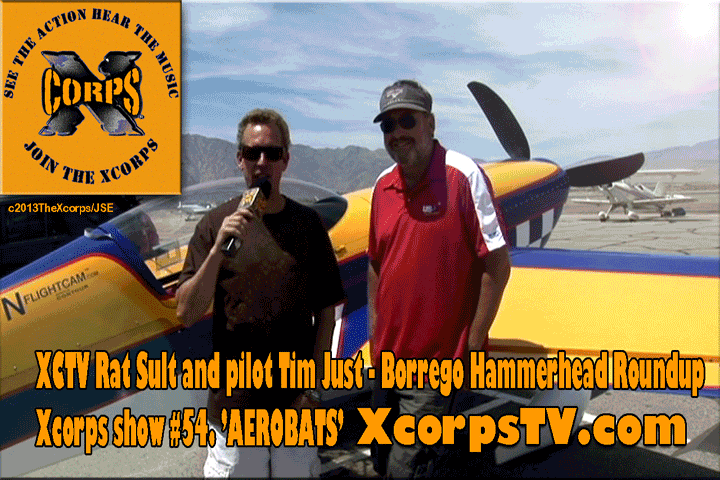 Continuing with this Xcorps episode the cameras catch up with RAT hanging and flying high over the Borrego Desert pulling aerobat stunts in the VeloX VX charged by RIVE promoted band Ayah Marar ft. P Money doing the song "Alive".  She is RIGHT On!
Rat lands AOK with a little sweat and talks to the cameras about his G stressed ride! After that Rat meets one of the few women pulling pro air stunts here at the Borrego Hammerhead Roundup – Chelsea Stein Engberg. Check out this gal in her ACTION world!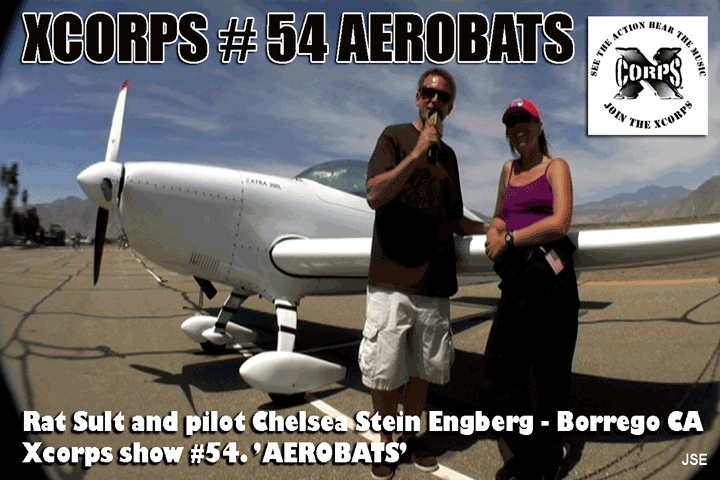 Perfect fit music from RIVE by German band the DONOTS performing their song Come Away With Me.
Additional music by Angelo Marruzzi and Encinitas band FANG.


SHOW VIDEO – CLICK BELOW – Action Sports Music TV #54. AEROBATS – FULL SHOW

*DOWN LOAD MUSIC from this XCTV SHOW #54. AEROBATS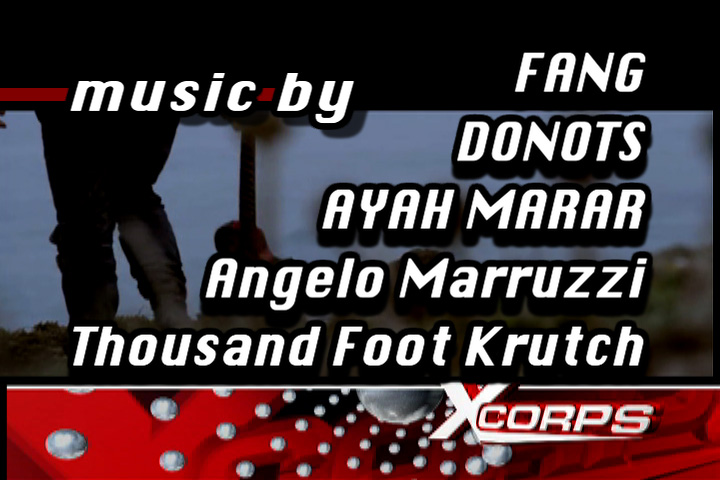 Special Thanks to aerobatic instructor Gray Brandt and to Vicki Cole at the Borrego Valley Airport and to El NINO Aviation.
Thanks as well to The Borrego Springs California Resort and Linda Haddock at Borrego Springs chamber of commerce.

See The Action Hear The Music Join The Xcorps!
A J.S.Edmondson Film TRT 22:00 ©2017 TheXcorps 
https://www.actionsportsmusictv.com/
*Xcorps TV Production Tip #54. – Please DO It  Tip Coming Soon! JSE/XCTV

Check out this cool AEROBATIC and LUGE stuff:
Xcorps websites http://www.xcorpstv.com/
http://actionsportsmusictv.com/